The perfect snack to support Moms while exclusive breastfeeding

Did you know that nursing mamas need an additional 500 calories postpartum to help produce enough breast milk for exclusive breastfeeding?
We formulated our Mama balls with the breastfeeding mama in mind! Loaded with 10% percent of your daily macronutrients, and enough calories + active ingredients to help keep that supply up.
For a limited time get your First Box Free ($30 value) when you join the Nunona program.
Use Code: FIRSTBOXFREE
Use this text to share information about your store with your customers. Describe product, share announcements, or welcome customers to your store.
Redefining Maternal Nutrition
Maternal nutrition affects baby for a lifetime. Essential nutrients mamas consume like omega 3 fatty acids, B-vitamins and iron help with optimal brain & body development for Baby. Nunona's bite-sized energy balls are formulated by moms & scientists to support breastfeeding mamas with the essential nutrients babies need for a lifetime of health.
Only What You Need and Nothing Else
We handpick ingredients that supply essential nutrients.
Our core functional ingredients are:
Oats
Contain soluble fiber to help regulate
blood sugar levels, which supports
your mood & energy levels.

P.S. Our oats are gluten free!
Nut Butters
Provide healthy fats & a
good source of protein to help
you recover post-birth.
Flaxseeds
High in plant-based
Omega-3 fatty acids to
help build baby's brain.
Dates
High in fiber for the comfort
of your bowels and act as
a natural sweetener.
Brewer's Yeast
Provides protein, iron and
B Vitamins for cell creation
& brain development.
Nunona Mama Balls
An award-winning postpartum snack designed to nourish new moms, support breastfeeding, and provide essential nutrients for baby.

1 box is 1-week supply (28 energy bites).
4 plant-based energy bites a day give you:
The extra 300 calories you need  
10% daily macronutrients to fuel postpartum recovery
Iron* for babies brain and body development
B Vitamins* to support a strong nervous system
Omega 3* for babies brain development
*Essential nutrients for breastfeeding mamas to pass on to baby via breast milk.
Free Shipping, Over $50

30-Day Money Back Guarantee

Easy Cancellation, Always

Nutrient Dense

Whole Food Plant-Based

Organic

No Synthetic Supplements

Gluten Free Oats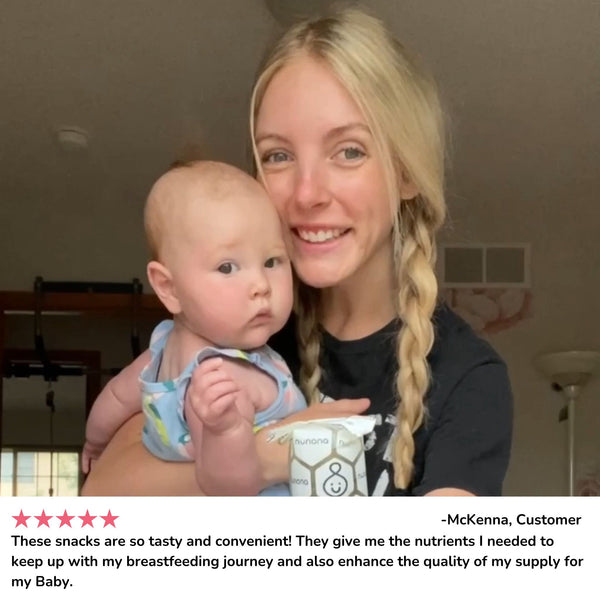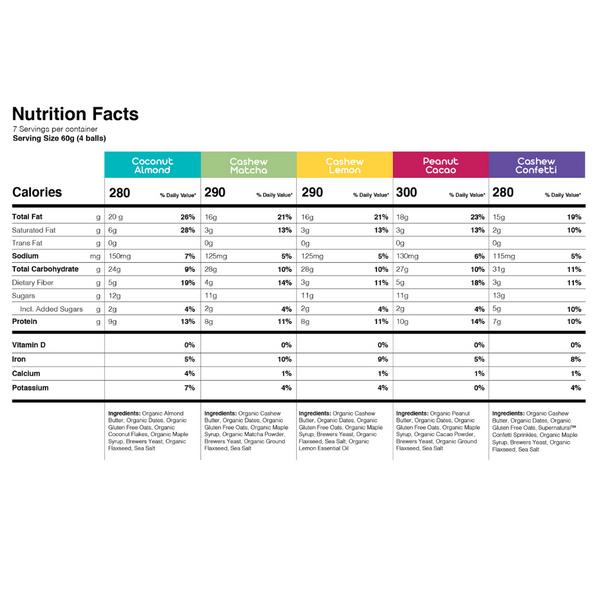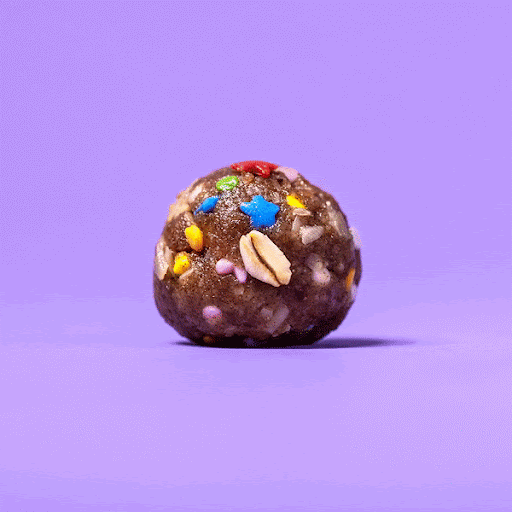 1000's of Mom's Trust Nunona
Recommended by Experts, Loved By Moms
"Exclusive breastfeeding was hard, but I knew I wanted to keep with it, I always felt my energy was gone, and keeping up with baby's schedule was challenging - until I found Nunona. Nunona helps me stay nourished throughout the day, and helps make exclusive breastfeeding that much easier!"
⭐⭐⭐⭐⭐, McKinzie
Healthy Babies Start with Healthy Mamas
Our debut product, Mama Balls, are an industry first. Focused on nourishing new moms, our energy balls have nutrients that help support babies' brains and body throughout their lifetime. With pre-portioned daily packs, we help take the guesswork out of getting extra energy, when it's needed most!
Join our healthy mama movement @nunonalife
We love seeing mamas helping other mamas.